Sport Center Vernets
Centre Sportif Des Vernets, in English: Sport Center Vernets is a big sport center situated in the district of Jonction, on the other side of river Arve than city center, just 5 minutes by walk from Plainpalais. Probably the best choice for sport activities in a Geneva city center.
Under the leadership of the City of Geneva, this complex offering various sport activities is accessible for public and for sports clubs as well. Feel free to visit even if You're not local.
Sports
In Vernets You can do indoor activites as swimming and ping ( two indoors  and one outdoor swimming pools and one outdoors ping pool), sauna, ice skating, bodybuilding and hockey.
Entrance fee
One enter costs 6 CHF (adults) or 3 CHF (age under 25) and duration of one stay is not limited.
If You are living or staying in Geneva for at least a month and would like to go swimming on regular basics, we recommend to buy a monthly ticket for swimming (with sauna included) for a price 20 CHF for adults (10 CHF reduced price for people under age of 25).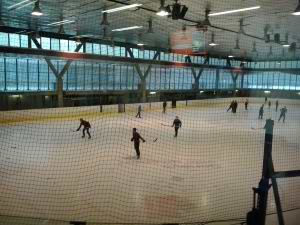 How to get there -
Take a bus 11 or 27 to bus stop Vernets.
OR: take a tram 12 or 15 to Plainpalais (or bus 1 to Ecole-Médecine) and walk 5 minutes west, cross the river, to Vernets.
Parking
The big parking lot is situated just next to the Vernets Sport Center, at usual prices of about 3CHF per 2 hours.
Important!
You need to have Your own lock for the cabinets where You lock Your clothes. There is no lock given. Hovewer, You can buy Your own lock at the place, either before entrance or after entrance directly next to the cabinets, for 9CHF.
Swimming pool Varembé
The consequence of buying a monthly card is a possibility to use this card also to enter swimming pool in Verembé, which is situated 4 stops by bus from Gare Cornavin (access- bus stop Motta: 8,11,22).