Plainpalais
Plaine de Plainpalais is a huge open space of a rhombus shape located in city district in central-south Geneva, Plainpalais. Commonly, this open space is also simply called Plainpalais. See map and how to get there.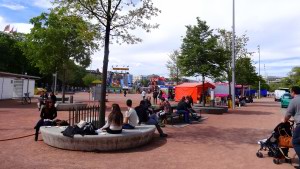 Plainpalais is the most famous for hosting the biggest flea market and farmers market in Geneva. Few times a year, cultural and entertaining happenings such as Circus or Roller Coasters open up here. Plainpalais is a popular meeting point for young people going out at night or skating at a skate park.

What's on Plainpalais:
Plainpalais Farmers Market
Colorful fresh market of thousands aromas and tastes. Plainpalais Farmers Market is the biggest farmers market in a city, where You will find a variety of quality fruits, vegetables and farmers products, mostly sold by sellers coming here from France. The prices are little lower then what You find in a supermarket and quality and variety is much better.
Open - On Sundays the big one (from early morning till about 5pm) and on Tuesdays and Fridays smaller one (less stands, till about 2pm).
The great deal are sweet and delicious mangos from Peru, if you're lucky you can find them at about 1CHF per piece.
Other farmers' products include: dried fruits, nuts and seeds, huge variety of spices, cheese, some jams, honey, mushrooms.
Fast food
Between the veggie stalls You can also find some fast foods from various countries - Peru, Spain, Mexico etc, such as hamburgers, falafel, kebab, chicken, cakes, pancakes, wine and refreshment. For Starbucks and McDonalds, head to Plainpalais tram stop (see map).
Plainpalais Flea Market on Saturday and on Wednesday (smaller one). 8am-5pm.
Here You will find everything second hand, from books, clothing, smartphone accessories all the way to home decorations and handy tools. Very cheap prices, but don't buy anything serious, as quality is often equivalent to the price.

For even more bargain shopping, visit Cash Converters just one street after Plainpalais - shop with various second hand produce, from electronics, musical instruments, CDs, DVDs all the way tp sports equipment. Address: Rue de Carouge 18 1205 Genève (map).
Plainpalais Skatepark - roller-blading, cycling, skating. Open for everyone and full of skaters. Great place to meet like-minded people.
Roundabouts and Roller Coasters are being here most of the year. Ideal for families with children and teenagers who can get really excited and entertained. Prices for simple tracks are: 4CHF one, 10CHF per three. The more intense rides are up to 10CHF. Candy stalls and refreshment are granted.

Plainpalais Nightlife
The Plainpalais and it's neighbouring street - Rue de l'Ecole-de-Médecine and Bains district is the center of nightlife.
Plainpalais Circus is hapening here several times a year.
Zombie
As part of Marry Shelley's Frankenstein book is taking place here, on the Plainpalais, the 2-meter big Zombie statue is displayed near the skatepark, east-northern part of the place.
Plainpalais Restaurants and Pubs
Basically the whole periphery of Plaine de Plainpalais is full of pubs, restaurants, cafés and fast foods:
Pizza Kebab - open 7 days a week, from 10am to 2am,
Café Remor - stylish and popular place to have a lunch or a café,
Moulin Rouge.
On the southern part of Plainpalais, because of the proximity of University You will find many low-priced options where students ten to go:
Lady Godiva Pub,
Chic Chicken fast food (mix of KFC and Chinese cuisine, so get ready for chicken nudgets with rice and french fries with cola),
Near by is local grocery store open till night with wide array of foods and drinks, There are also Coop and Migros near by.
University of Geneva is located on the south peak of Plaine de Plainpalais, just behind the local church.

How to get to Plaine de Plainpalais
Take a Tram 12,15 to stop Plainpalais and You are at the east side of Plainpalais. Facing Plainpalais, skatepark is on the right (north) and markets are on the left (south). Also tram stop Cirque is at the north edge and stop Uni-Mail (University) is at the south edge of Plainpalais.
Or Take a bus 1, 27, 32 to bus stop Ecole-Médecine, on the west side of Plainpalais.
Facilities on Plainpalais
Free WC.
Free Wifi (Ville Geneve, one around a tram stop and one at southern part, around markets).
A lot of places to sit, benches with tables to have a meal.
Bike lockers.
Coop supermarket (grocery store) at the eastern side.
Map of Plaine de Plainpalais:
Enlarge Map
Address:
Plaine de Plainpalais, 1205 Genève, Switzerland
Around:
Plainpalais Cemetery