Luxury Hotels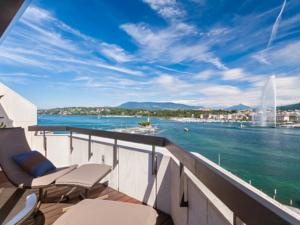 Geneva keeps the reputation of prestigeous city full of glamour and riches with five star superb hotels that can easily compare to world's best of the bests.
Being the center of international organizations and global conferences, it's high-end hotels for selected customers are among the top most prestigeous hotels in the world.
Search 5*Hotels in Geneva via Booking.com
Geneva is embedded between the hilly terrain of the Jura and the nearby Alpine peaks. If you find the bay where the Rhone leaves Lake Geneva, you are right near Geneva itself. It is literally on the French border, occupying the westernmost corner of Switzerland. Geneva is more than just a city with a rich culture and history; it is a combination of nations that is just waiting to be explored.
Given that the entire world is represented in Geneva, with some 200 nongovernmental and governmental international organizations calling Geneva their base, it should come as no surprise that there is a wide range of hotel options as well. There are some amazing hotels, some with posh luxury and others with tremendous sights. We have narrowed down a list of some of the better hotels in Geneva that we believe that you have to experience for yourself.
Four Seasons Hotel des Bergues
Quai des Bergues 33, 1201 Geneva, Switzerland
(est. 1834; 115 rooms) This hotel was the first hotel ever built in Geneva, and it is still the primary choice for statesmen and sophisticated travelers. It continues to be a Lake Geneva landmark. It offers a blend of warm, genuine personal service and a revitalized sense of history with comfort and relaxation. The hotel itself was developed by renowned interior architect Pierre-Yves Rochon.
Mandarin Oriental Geneva
Quai Turrettini 1, 1201 Geneva, Switzerland
(169 rooms and 27 suites) This hotel overlooks the right bank of the River Rhone and offers a central city-center setting while remaining peaceful. The setting blends together cobbled streets, stunning lakeside vistas, and breathtaking mountain backdrops. When staying here, you are mere minutes from the major attractions in Geneva.
Hotel Beau Rivage
Quai du Mont Blanc 13 CH 1201 – Geneva, Switzerland
(est. 1865; 90 rooms) The hotel is located directly in the heart of Geneva, near the United Nations' Palais des Nations. When staying here, guests are able to enjoy panoramic views of the Mont Blanc and Lake Geneva. The Beau Rivage's Le Chat Botté restaurant received a Michelin star in 2012, and it offers authentic French cuisine. For those guests who prefer Thai cuisine, the inhouse Le Patara restaurant offers just that.
Hotel President Wilson, a Luxury Collection Hotel, Geneva
47, Quai Wilson · Geneva, 1211, Geneva, Switzerland

(230 rooms) If you want to stay directly on Geneva's waterfront promenade, this hotel is absolutely perfect. You are able to enjoy the outdoor pool or the luxurious spa at the hotel. There are Hermès bathroom amenities in each room, and each room includes state-of-the-art technology. It offers the Michelin star winning BayView Restaurant and the Japanese restaurant Umami. You are only five minutes removed from the Cornavin Train Station as well.
Fairmont Grand Hotel Geneva
Quai du Mont-Blanc 19, 1201 Geneva, Switzerland
(est. 1897; 398 rooms and 14 apartments) When traveling here, you will find that this hotel is a destination all on its own. It is a true oasis in the middle of the city, and there are three exclusive gourmet restaurants to suit even the most particular customer. It is also home to the Java Club – one of Geneva's trendiest nightclubs.
InterContinental Geneva
Chemin du Petit-Saconnex 9, 1209 Geneva, Switzerland
(333 rooms and 56 suites) When staying at the hotel, you are only three minutes away from the International Conference Centre Geneva, the United Nations office, and Botanical Garden. Hotel guests have free transportation available courtesy of the hotel. There is also a wellness spa, large outdoor pool, and complimentary wireless Internet.
Hotel de la Paix
Quai du Mont-Blanc 11, 1211 Geneva, Switzerland
(est. 1865; 69 rooms, 15 suites) The hotel sets itself apart with a modern design, playing up the elegance of its original Italian architecture. Guests are able to enjoy a luxurious and sophisticated setting spread across six floors. The hotel is only steps away from the business district and the historic center of Geneva.

Hotel d'Angletere
Quai du Mont-Blanc 17, 1201 Geneva, Switzerland
(39 rooms and 6 suites) The hotel is set along the banks of Geneva's Lake Leman. The personal motto shows through in the attention being given to each guest. The rooms are all individually designed and each of them combines modern amenities with elegant style and traditional charm.
La Reserve Hotel Geneva
Route de Lausanne 301, 1293 Bellevue, Switzerland


(85 rooms and 17 suites) Set on the shores of Lake Geneva across the heart of a beautifully landscaped park, this hotel offers a great location that is near both the international airport and the town center. With five different restaurants onsite and an enormous spa facility, guests are not required to leave the hotel to enjoy opulent luxury.
Les Armures
Rue du Puits-Saint-Pierre 1, 1204 Geneva, Switzerland
(est. 1977; 27 rooms and 5 suites) Despite the fact that this location has only been a hotel for a few decades, the building itself can trace its history back to the 16th century. With a unique historic atmosphere, the hotel is situated in the heart of Geneva's historic quarter. Even though it is renowned for being a hotel, it is also Geneva's oldest coffee house.