Fairmont Grand Hotel
Fairmont Grand Hotel is big, modern and perfectly located luxurious hotel for business and top class travelers, who want to get the maximum of their stay in Geneva.
Rooms
Luxurious, spacious and lighted rooms with views of Geneva Lake, Jet d'Eau Fountain or Alps, offer the most comfortable stay in Geneva. Rooms, which were renovated in 2017, are soundproof, include heating and climatization, safety deposit, flat TV, DVD player, radio and telephone. There is a free WiFi in every room. The hotel includes Dinning room, Minibar and Swimming pool.
Location
Located at Quai du Mont-Blanc, Fraimont Grant Hotel faces the Geneva Lake, offering beautiful views over the lake full of ships during the sunny day. The most famous Geneva beach Jetée des Paquis is a minute away. Fraimont hotel is only 5 minutes walking to Gare Routière bus station and 11 minutes to Central train station Gare Cornavin. City center, Old Town and United Nations are in a reachable distance, making the Fairmont Grand Hotel a perfect place to stay.
Dinning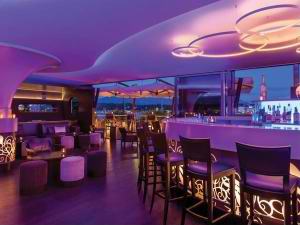 Delicious meals are served at 3 restaurants - The Restaurant Floor Two opened all-day long with panoramic views over the Geneva Lake; The Chinese restaurant Lou One serving apetizing Chinese cuisine and The Grill, popular for its yummy steaks.

Cocktail Bar
Next to restaurants is also a luxurious cocktail bar (on a picture) with glazed walls showing view over the fountain. Classy atmosphere (average age 30-50), mixed cocktails and DJ with befitting music create a pleasant ambience. Good for Friday and Saturday's midnight cocktail (closing at 1am). Take a drink and continue to the disco located on the ground floor of the hotel. If You don't want to stand at the bar, we recommend making reservation for a table.
Facilities
Indoor Swimming Pool, Fitness Center (Let's Go Fitness), Solarium, Spa and Wellness Center, Nightclub with DJ and Terrace offers everything you need for your relaxation and entertainment. Hotel includes public parking place (35CHF/day) and offers a shuttle.
Overall
Fraimont Grand Hotel is among the most luxurious and modern hotels in Geneve. As a standard for Kepmipnsi brand, a high-quality service, various facilities, friendly and well-trained staff and central location with beautiful views make it the best choice for high-class travelers.
Book Fairmont Grand Hotel via Booking.com
Address:
Fairmont Grand Hotel Geneva
Quai du Mont-Blanc 19, Paquis
1211 Geneva

Contacts:
Tel. +41 (0)22 908 9081
Official Website:
www.fairmont.com/geneva