Mont Salève
Located just 20km from the center of Geneva, Mont Salève is a popular destination for a day trip. Whether a tourist looking for a relaxing escape into nature or a local sport lover, there is something to please everyone. When the sky is clear, there is spectacular view of the surrounding area up to 30 kilometers including the Jura mountains and the Mont Blanc. As well, even if Geneva is overcast and rainy the weather at the mountain's peak is often nice and sunny.
---
Transport to Salève
There are several options for accessing the Salève, including car, cable car, and on foot:
Going to Salève by car
Mt. Salève is easily accessible by car, either from north-east side - from Étrembières, or from south-west side, through Collonges-sous-Salève.
If You have a navigation, the address to put in is:
1) From Étrembières:
5461 Route des 3 Lacs
74560 Monnetier-Mornex, France
GPS: 46.154034, 6.194872
This will get You to top station of cable car, where are great views and restaurant. Also small hiking trails start from there.
2) through Collonges-sous-Salève
8200 Route des 3 Lacs
74560 Monnetier-Mornex, France
GPS: 46.145089, 6.187705
This is the address of parking lot by Restaurant de l'Observatoire. You will easily find it as big observation tower is here. Also great views and hiking trails.
TIP: Veyrier - on the way to Saleve you can stop in the small historical center of Veyrier, to experience authentic, medieval times swiss village atmosphere. Here You will find church, 3 restaurants, shop and a beautiful cozzy coffee shop, full of small cups. True and beautiful countryside. One minute walk from bus stop Veyrier, douane (bus 8).
Address: Place de l'Eglise, 1255 Veyrier. GPS: 46.166901, 6.185304.
Cable Car to Salève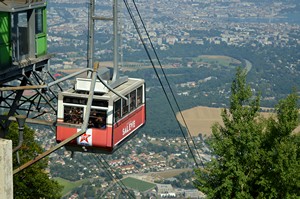 Closing only in exceptionally bad weather (check on +33 (0) 4 50 39 86 86), the cable car (in French called téléphérique) takes visitors to an altitude of 1097 meters every ~15 minutes daily from April to October, 9:30 am to 7 pm. Tickets are available in both Euros and in Swiss Francs (change is only given in Euros), and a full adult one way ticket costs €7.30, reduced fee is €5.30 and children ticket costs €4.30. Return ticket is about 35% cheaper than the sum of 2 one-ways tickets.
The base cable car point is located at:
Route du Téléphérique, 74100, Etrembières, France (map)
and is accessible either by car or by taking Bus 8 from Gare Cornavin to Veyrier-Douane (alternatively Veyrier-Tournettes), which are both 10 minute walk to/from the cable car station. If arriving by car, the cable car has its own huge free parking lot, located just in front of the station.
Check out the official website at www.telepherique-du-saleve.com for more detailed information.
There are several hiking trails to Saleve:
For hikers with a little experience there is well-marked path that leads from the funicular bottom station to cable car top station. This path begins just a few minutes walk past the funicular base at:
558 Chemin du Bois Meriguet
74100 Etrembières, France
GPS: 46.164677, 6.196884
(walk the Chemin du Bois Meriguet, through the bridge over highway into the forest, where marked trail starts.)
and winds up a very steep incline to the small village of Monnetier and then continuing up to Saleve. The normal hiker arrives to the top funicular in under 2 hours, and the more ambitious can add on several hours to a trek by continuing on the visible trails to the Grand Salève at 1,379 meters.
There is also a group of hikers, called Friends of Salève, that meet to explore a different route every Sunday morning at 10 am.
Read more about hiking to/on Salève.
---
Salève activities
In summer there are many trails for hiking, mountain biking and rock climbing, and in winter the Salève hills turn into slopes for sledding, learning to ski and offers freestyle skiing for the more daring. Read more about what to do at Salève bellow.
Paragliding at Mt. Salève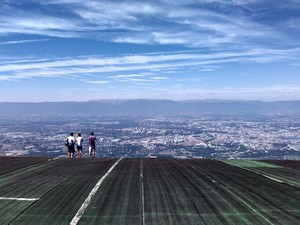 When the weather is nice the sky by the Salève is full of paragliders hanging in the air. There is no permit required for paragliding in France (Salève is in France), and both Swiss and French paragliding clubs are able to take you up by van. Tandem jumps with instructor (20 min) are offered by the Swiss paragliding club for CHF 180 and by the French paragliding club for CHF 120.
Weather
Weather on Mt.Salève is usually nice, sunny and bit cooler than in Geneva. Wind is not unusual. If the sky is clear, you can see surrounding area up to 30 kilometers, so be prepared for spectacular views of Geneva and Lac Léman.
---
Salève Restaurants
To satisfy your hunger, the funicular arrival point has a restaurant called L'Horizon (closed Mondays and Tuesdays, tel.: +33 (0)4 50 39 09 09) offering a simple menu of traditional French mountain dishes as well as a snack shack just outside.
L'Observatoir restaurant is located a 20 minute walk a little bit further up (+33 (0)4 50 39 60 57), offering a bit more choice.