Annemasse Hotels
Whether You'r coming to Annemasse for cheap shopping at it's vast shopping moles "Centre commercial Praz du Léman", for dinning at one of it's romantic restaurants or as a transfer station on Your train journey to Geneva, consider staying overnight.
Hotels in Annemasse are far more cheaper than those in Geneva, while keeping it's 3-stars high quality standards; they also provide extra capacity for overcrowded Geneva. Prices start at €45 per night if You book in advance, goes little higher with the date converging.
Book any hotel in Annemasse via Booking.com
Hôtel la Place **

Located just next to the railway station in the center of Annemasse, this is the standard 2 stars hotel offering single, double, tripple and quarduple rooms, all equipped standardly with air conditioning, wifi, television, shower, bathroom, safety box. Prices start at €67 per single room and €80 per double room.
Address:
Hôtel la Place
Place Jean Deffaugt 10,
74100 Annemasse, France
Contacts:
Tel. +33 4 50 92 06 44
Homepage: www.laplacehotel.com
Secure Online Reservation
Ibis Annemasse ***
& Ibis Styles Annemasse ***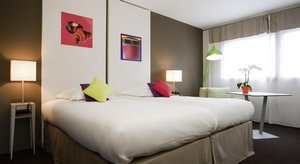 are 2 most popular (thus sometimes fully booked) hotels conveniently located just at the road going to Geneva (Rue de Genève), being predominantly used by tourists and conference attendants visiting Geneva who prefer budget hotel option opposite to expensive Geneva's five star hotels.
Address:
Ibis Styles Annemasse
4 Rue De Genève
74100 Ambilly, France
Contacts:
Tel. +33 4 50 38 63 10
Homepage: www.ibis.com
Secure Online Reservation
Our suggestion: next time You visit Geneva, consider booking a hotel in Annemasse - it's a great bargain!