Red Light District
Geneva is the city where famous Paolo Coelho's novel 11 Minutes, about young Brazilian girl becoming a prostitute, is taking place. So if You are easily ofended, be aware there is other side of Geneva, too. Geneva's Red Light District is not as world famous as the one in Amsterdam and it is not officialy defined and clarified, but it is still a place You wouldn't find for miles around.
Red Light District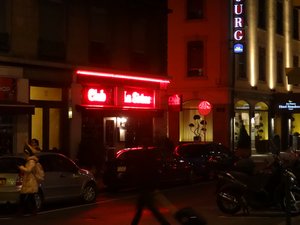 Geneva's Red Light District is situated in the heart of Pâquis, not far from Gare Cornavin, Gare Routiere and lakeside. The main street to start Your journey is on Rue de Berne, which becomes very busy and lively at the evenings, full of excetic restaurants and cafés with people chilling out-of-door, smooking shisha and living with the street. Walking down the Rue de Monthoux it is impossible to miss ladies in tights on high heels, watched from distance by their bodyguards. Two small streets on the left side, Rue Pellegrino-Rossi and Rue Charles-Cusin, together with the streets crossing them - Rue Sismondi and Rue Docteur-Alfred-Vincent, are the center of Geneva's RLD. Here You will see women in red and purple neons windows showing themselves off and awayting company, even during the day, as well as hookers standing on the corners at the night time. Many sex shops and some night clubs make up the unique atmosphere of the Geneva's Quartier Rouge.
The women in Red Light District are mostly from Spain, Italy, Greece and England, with fairly high representation of Latinos. The women on the streets look hot and sexy, but are generally not considered to be the prettiest, when compared to other red light districts. You will have to have a look Yourself. Bids reporedly start at about CHF 100, but it is possible to negotiate and get even half the price.
The area is full of pornographic shops, sex shops, cabarets and night clubs, where party goes to the fullest till 5am. This area, as the whole Paquis, is also offering range of multicultural ethnic restaurants, such as Indian, Thai, Mexican, Maroccan or Turkish. Fast foods such as falafel, tacos, hamburgers and sandwiches ar at every corner.
Safety
The Pâquis are has became home for many immigrants without a regular job and area around Red Light District, together with prostitution, became a center for local gangs and drug dealers, wich goes hand in hand with a prostitution. Police is constantly present and watching over the order, but does rarely interfere. There is a tacit agreement among the habitants, saying they will not cause any trouble to noone, especially not tourists, as they don't want to discourage people from coming to this area and lose income. Some tourists, might feel not completely safe walking here alone at night and we recommened women to always walk here accompanied. Another will find this place a great point for clubbing, eating in mexican or thai restaurant and to experience a unbound side of Geneva.
If You are looking for more classy and professional company, visit the Moulin Rouge cabaret on Plainpalais or hire an Escort.
Please note, that prostitution in Geneva is legal. All women should have papers for doing their job.
Map of Geneva Red Light District
Enlarge Map
Address:
Rue de Berne, 1205 Genève, Switzerland