Geneva Yoga and Music Festival 2017
Date: 8. - 10. September 2017
Location: Temple in Paquis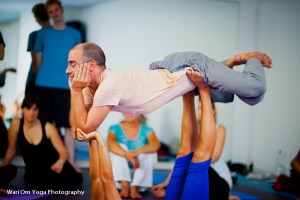 Incredible 8th year of Geneva Yoga Festival, is traditionally held in cosy Temple in the centre of Geneva, in Paquis. More than 40 experienced yoga teachers are invited every year, as well as other artists like musicians, therapeuts known from all over the world (France, Greece, UK, Thailand, US).
Those who are coming to Geneva since 2010 to share their interests among people, will offer courses in Kundalini, Nidra, Ashtanga, or Hatha Yoga, Acro Yoga, Who Qong, Thai massages, Kirtans songs, dance with DJ's. Other art forms will be also presented, as acrobatics, Indian and belly dance. Food stalls and healthy drinks are available during the whole festival.
The main mission of the festival is firstly to collect, show and educate public not only about Yoga, but about many other alternative approches. The idea is to bring people the view on spirit and benefits of mentioned alternative activities, as well as connect not only spiritual seekers together. Geneva Yoga Festival is a great place for new meetings and exchanges among more than 200 visitors coming every day of festival, counting about 1000 visitors during whole festival.
Since the first year, festival is located in the Temple of Paquis, the area considered as bad neighborhood. Welcoming people living in poverty, Geneva Yoga and Music Festival is trying to promote the positive image of Paquis.
For more information and inscription, please visit the following website:
www.facebook.com/GenevaYogaFestival
Contact:
Daniel Anner
gymfestival
gmail.com
+41 79 362 7910