Circus Knie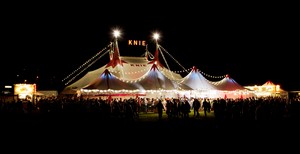 As every year the family Knie is presenting their new program with a lot of animals, top level artistis and clownish performances. With 42 artists from 8 different countries around the world you can expect a spectacular show in the arena and high up in the cupola. The 97th tour started on March 26 2015 in Rapperswil and will run until November 22.
Circus Knie is Swiss circus with long tradition, visiting 39 places in Switzerland. The presale opens 3 weeks before the circus arrives at the new place. To get more information about the new program and the tour check out Circus Knie website.
Location: Plaine de Plainpalais
Dates: August 28th (Friday) to 17th September 2015 (Thursday)
Website: www.knie.ch
Tickets at: www.ticketcorner.ch (20CHF - 70CHF)
Live music. Performances and show of all ages, from little princess girl. Lights.
Show is concipated in humorous and immediate style. Show features athletics shows, jumping, climbing on each other, jokes, comedy, juggling, animal shows: elephants, many horses, ponies.
Buffet at the entrance, with drinks and fast foods. Toilets.
Show is divided into two blocks of one hour, with 15 min break in the middle.
No photography allowed.
Car parking is possible at Plainpalais parking garage, or at surface level in surrounding streets.

Show
Mondays, Tuesdays, Thursdays, Fridays: 20h15 (except August 31th and September 7th)
Saturdays and Wednesdays: 15h00 and 20h15
Sunday August 30th: 14h30 and 18h00
Sunday September 6th and 13th: 10h30, 14h30 and 18h00
September 10th (public holiday): 14h30 and 18h00
Zoo
Daily: 9h00 to 19h30
Thursday September 17th: 9h00 to 17h30
Circus ZOO give visitors chance to come close to animals: zebras, camels, ponnies. Price: adults - CHF 6, children - CHF 3.
Circus Cashbox
Daily: 10h00 to 21h15
Thursday September 10th (jeûne genevois): 10h00 to 19h00
Sundays September 6th and 13th: 9h30 to 19h00
Monday September 7th: 10h00 to 18h00
Thursday September 17th: 10h00 to 20h45
Tickets are available at the box office beside the circus (see above) or at Ticketcorner.com.